Paws Indoors is an independent practice that has been running for over twenty years. Rosie has a wealth of experience treating pets at home, listening to, and liaising with owners to empower them to achieve the best outcomes for their pets, considering their particular circumstances, expectations, and budget. Every case is assessed and treated according to the individual needs of the pet and owner.
She is backed up by a small team of experienced clinical and reception staff. All are used to dealing with veterinary queries, offering a sympathetic ear and the time needed to understand your particular needs.
Being a small team, you can be assured that we will develop an ongoing understanding of your pet's individual health needs.
How we work
Because Paws Indoors works very differently from a regular practice, we find that we can serve you best if you telephone the practice first. This enables us to determine the urgency of your needs and to plan for any individual circumstances or requirements. Each consultation requires careful planning, which can only be done by a real-time discussion with one of our experienced team members.
We are more than happy to accept enquiries by email or social media channels, but please always include a phone number so we can call you back.
We understand that some enquiries are emotional or distressing. Our team are used to guiding pet owners through challenging conversations. You will be given time and a sympathetic ear to make these conversations more manageable.
As an independent practice, you can be assured that Paws Indoors is committed to the health and welfare of your pets. All our decisions are based on what best supports our team to deliver the service you require. We believe in empowering you, the person responsible for your pet's care, with the tools and information you need to bring about the best outcome for your pet. We know it is not always easy. We understand that some pets are difficult to deal with. We also know that what is best for one pet will not suit another.
We aim to serve you with kindness, compassion, and integrity.
Paws Indoors – Our vet-owner partnership
Our responsibilities to you
At the heart of the veterinary oath is a commitment to the health and welfare of the animals entrusted into our care. Ultimately as veterinary practitioners, vets, nurses, and non-clinical staff, we are advocates for your pet, as they have no voice of their own.
We always put the animals' welfare first.
Having said that, we recognise that you, as the animal's primary caregiver, are essential to the success of any treatment or intervention suggested. With this in mind, we aim to work with you in developing, implementing, or altering a treatment or care plan.
We will give you estimates of treatment costs in advance and advise you if these estimates are likely to be altered significantly and the reasons why.
We will offer a range of alternative treatments that are appropriate to your pets' condition, indicating the benefits and limitations of each.
We will reply to questions and complaints in a timely fashion.
In return, we expect from our clients
To follow the welfare guidelines set out in law and ensure that your pet is adequately provided for, bearing in mind that as the pet owner, providing veterinary treatment for your pet is your responsibility and that veterinary treatments require time and money.
To treat our staff respectfully at all times.
Communicate quickly with any information concerning your pet's health and welfare, as this may impact the treatment we propose for your pet.
To pay for treatment promptly as we are a small business.
If you are unhappy with the treatments proposed or carried out, you maintain communication channels with us so we can resolve any issues.
Continuity of care
Our two vets will get to know your pets very well. Usually, one vet will see a case through from beginning to end, but, where necessary, the vets liaise closely to ensure that they are each aware of your pets' treatment plan and special needs. Of course, you are more than welcome to request a particular vet to treat your pet, and we will try to fulfil your requests, as long as the vet's diary allows.
"Thank you for your urgency and compassion"
My parents tried to book an emergency appointment with their usual veterinary clinic to have their elderly dog put to sleep after she took a turn for the worse overnight. However, they didn't have any appointments and suggested Paws Indoors. They did what was needed within 3 hours of being called. The vet was so kind and professional and even carried my parents beloved dog to her final resting place in their garden. We can't thank you enough for your urgency and compassion.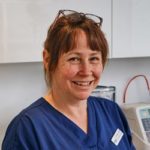 Rosie
Rosie has wanted to be a vet for as long as she can remember. She still loves her work, helping to enhance the bond between pets and their owners. Paws Indoors is the practice she has nurtured for the past 20 years. She has her own naughty dogs and cats at home.
Lesley
Lesley qualified as a vet in 1999 in South Africa, her country of birth. Having moved to the UK after graduating, she has over 20 years' experience in small animal practice and animal sanctuary work, developing interests in feline medicine, ultrasound diagnostics and dentistry. She also enjoys building good relationships with clients and their animals. Her hobbies include painting, reading and taking her Cockapoo for long walks in the countryside.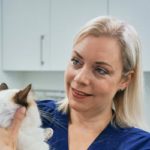 Emmaly
Emmaly has been qualified as a veterinary nurse for over 15 years. She has a busy home life with children, stepchildren, four cats and a dog. She loves socialising with friends and family and anything sparkly. Her favourite part of the job is talking with people and their pets.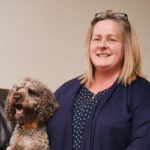 Alison
Alison joined Paws indoors in 2017 after many years working for the NHS. She assists Rosie with the general running of the practice, processing insurance claims and accounts, and can sometimes be found on reception too. At home, Alison has a bonkers cockapoo and a senior pussy cat Marmite. She enjoys dog walks, dressmaking and reading. Cats are her favourite but don't tell Watson!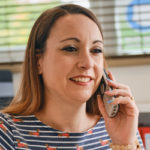 Carla
Carla joined Paws Indoors in March 2021 following a long career as a dispenser for the NHS. Carla is one of our receptionists and looks after the dispensary. She is mum to a German Shepherd named Obi and a cat called Enzo. Carla loves arts and crafts and makes beautiful glittering glassware and gifts in her spare time.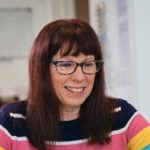 Jill
Jill is the newest reception team member and brings a wealth of veterinary reception experience with her. Jill loves all animals, from tiny gerbils to strapping horses. She is also rather partial to chocolate, Dairy Milk being her favourite.